Keep your grip and free your limits with our Toe Grip socks, designed for Yoga, Pilates and Barre. Offering both a firm hold and space to stretch, they're an ideal accessory for sophisticated sport's style.
With patented anti-slip technology, aircooling fabric, toe holes, and a no-slide promise, experience maximum comfort, stretch and movement control while you sweat.
Perfect for Yoga & PIlates!
As a yogi and frequent Pilates goer, these socks are phenomenal.
The special bottom fabric and toe holes allow me to have full control of my movement and stretch.
-Jenny L., Verified Customer
More reviews
Manufacturing
Designed in
New York
, carefully developed and tested in
South Korea
,
and ethically manufactured in
Vietnam
.
Our ONDOs ship from our warehouse in North Las Vegas, Nevada. 
Fabric
Body: 66% Tactel® Nylon, 34% Lycra
Bottom: 40% Nylon, 60% Spandex
Size 

 Care
THE DETAILS
No Slide. More Stretch.
Our tech-fabric prevents sliding or slipping on hard surfaces. Toe holes allow stronger grip and greater movement control.
We use Lycra Sport® for optimum comfort, stretch and durability while you workout.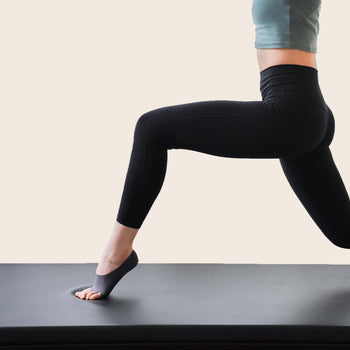 No Slip. More Comfort.
Our specially designed and patented silicone feature keeps your sock on your foot and prevents it from slipping off.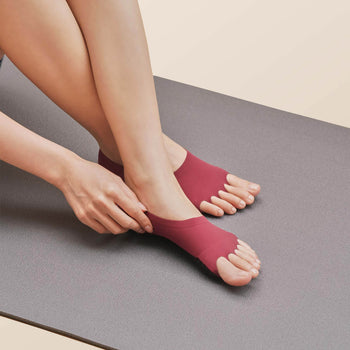 No Sweat. More Sun Protection.
Our air-cooling fabric keeps things breathable for your feet, allowing quicker ventilation.
They are UPF50+ and can reflect 99.9% of UV rays that penetrate the garment to reach skin from sunlight during outdoor activities.